STYLPRO Hot Lash Heated Eyelash Curler
Regular price
£14.99 GBP
Sale price
£12.74 GBP
Unit price
per
Sale
Sold out
Get party lashes in the blink of an eye!

Combining advanced beauty tech with everyday eyelash maintenance, this heated lash wand is the perfect tool to achieve glamorous lashes with minimal effort. The STYLPRO Hot Lash gently curls your lashes in seconds using the soft power of heat, ensuring a long-lasting curl that stays intact throughout the day.
EAN: 5060288332243
How it works

Say goodbye to expensive lash extensions and hello to beautiful, natural-looking lashes. Complete your look by using the heated lash wand as a mascara applicator for a flawless finish.
Benefits and features

⭐Simple, safe, and easy to use
⭐Gentle on lashes
⭐Ready to use in under 1 minute
⭐Long lasting, defined lashes
⭐Lashes stay curlier for longer
⭐No need to spend money on lash extensions or lash lifts
⭐Portable, use anywhere
⭐Comfortable level of warmth on lashes
⭐Automatic shut off after 10 minutes
⭐Smart battery low light
⭐Colour-changing heated pad
⭐Portable travel case


Includes

✅1 x Hot Lash Heated Eyelash Curler
✅1 x Protective Carry Case
✅2 x AAA Batteries
✅1 x Instruction Leaflet
How to use

🖤Add the 2x AAA batteries to the back of the device
🖤Push up the Power Button the side of the device to turn ON
🖤The small white LED light in the centre of the eyelash curler will turn on to indicate that it is warming up
🖤The red heated pad will slowly turn from red to white once it has warmed up to the ideal temperature to use
🖤Open the lever
🖤Lift the eyelash curler to your eye and align it with your lashes
🖤Hold your finger down on the lever to open the curler
🖤Line all of your lashes up on the heated pad. Once they're in place, push your finger down on the lever to clamp your lashes onto the pad
🖤Hold the device onto your lashes for 10-15 seconds
🖤Slowly let go of the lever to release your lashes
🖤Repeat with the other eye
🖤Do not use on your lashes for longer than 60 seconds in total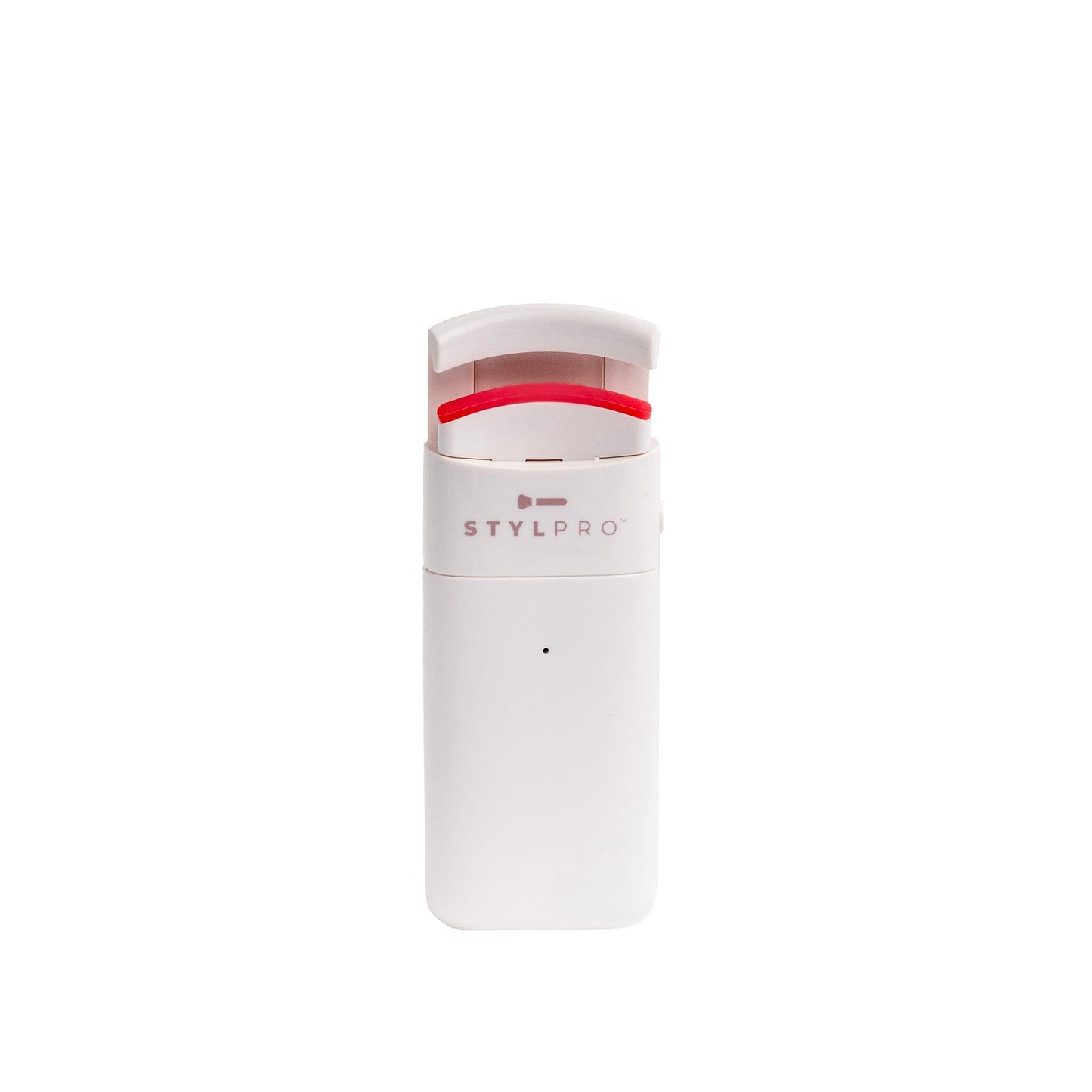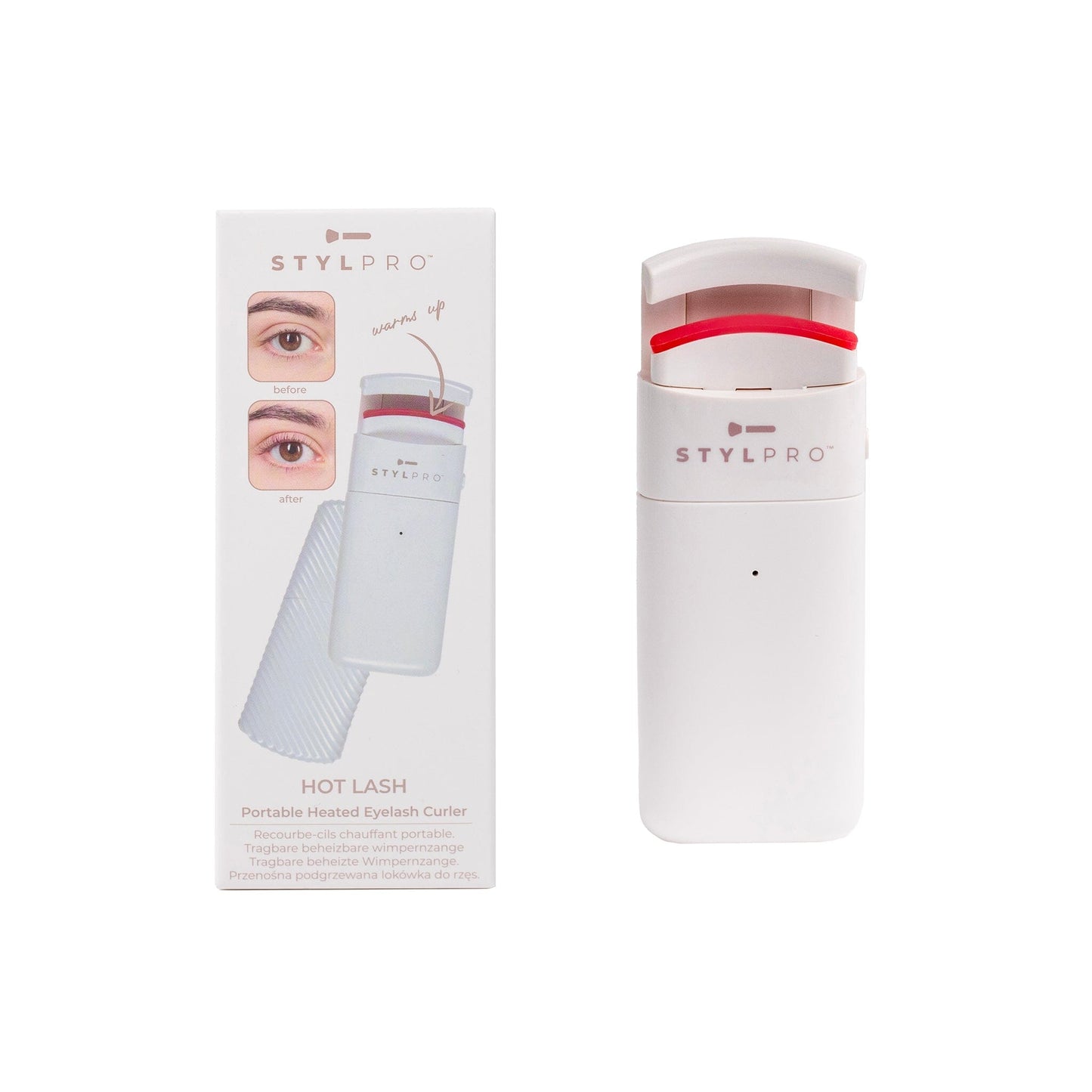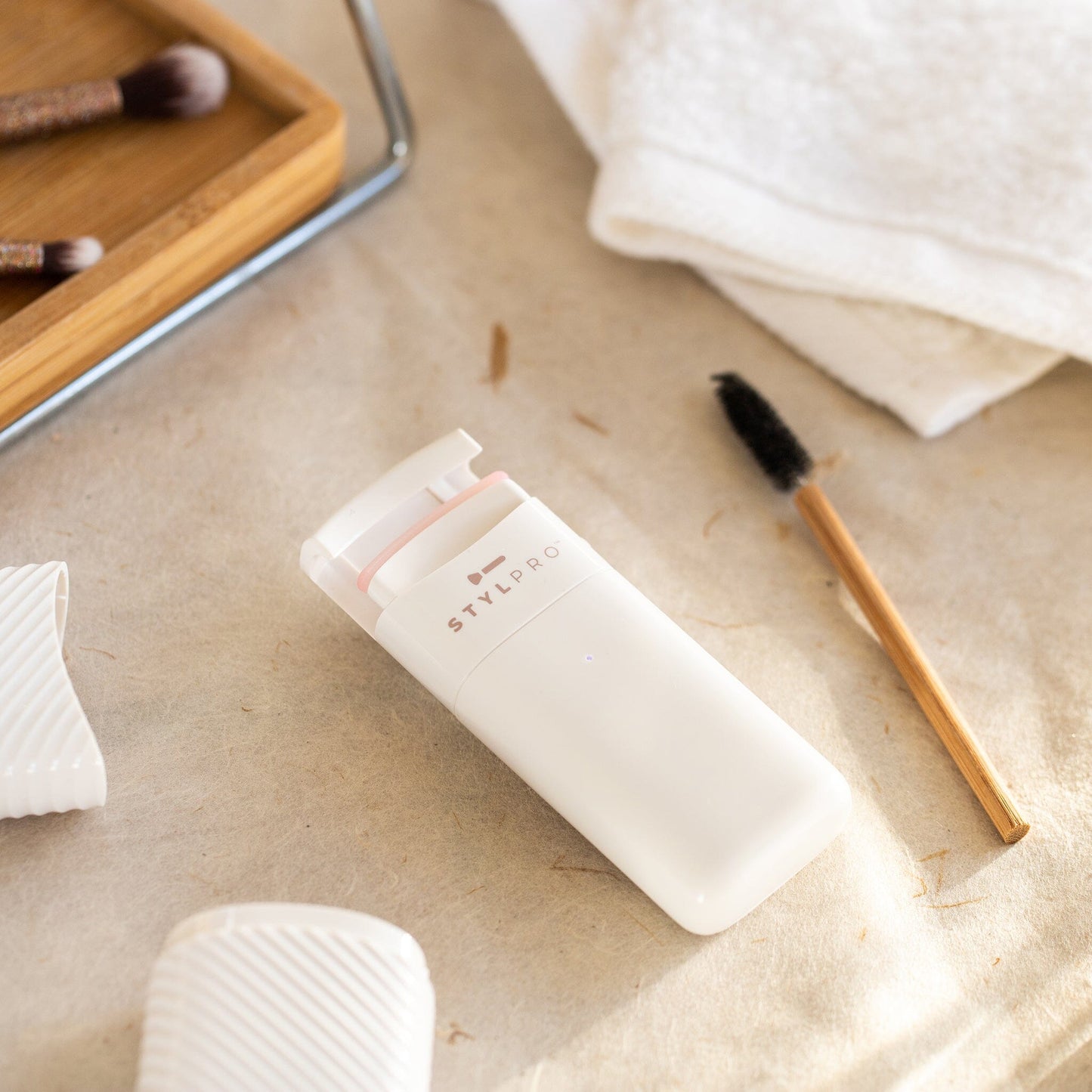 Beauty accessories invented with love
FAQs: Heated Lash Curler
The STYLPRO Hot Lash uses the soft power of heat to safely curl your lashes. This makes your lashes curled for longer than a regular eyelash curler, with a more defined curl.
No, using mascara first will damage the eyelash curler and will not effectively curl your lashes. Apply mascara after you have used the lash curler.
We recommend speaking to your eyelash extension beautician before using the STYLPRO Hot Lash on your eyelash extensions.
The STYLPRO Hot Lash uses a very gentle and safe level of heat for your lashes, please follow the instructions carefully. Never use on your lashes for longer than 60 seconds in total.
Please check that you have inserted the 2 AAA batteries included into the device. If you have been using the device already before it stopped working, you may need to replace the batteries. If the device is still not working after you have replaced the batteries, please contact our customer service team at teamtom@stylideas.com
The silicone heated pad has a smart feature built in that changes the colour from red to white when it is heated and ready to use.
The STYLPRO Hot Lash has a built in 10 minute timer which automatically switches off the device after 10 minutes for safety reasons and to preserve battery life.
Yes, it includes 2x AAA batteries.
If you are in cooler surroundings, your STYLPRO Hot Lash may take longer to warm up.
You can download a copy of the instructions here