STYLPRO Facial Ice Globes
Regular price
Sale price
£34.99 GBP
Unit price
per
Sale
Sold out
Embrace beautifying benefits of the cold
These innovative ice rollers provide a refreshing massage for your face, helping to reduce redness and puffiness while enhancing circulation. With cryocare technology, the icy globes invite your skin to absorb moisture, resulting in intense hydration and skin tightening.
EAN: 5060288331826
How it works

Experience natural relief from headaches and sinuses through lymphatic drainage. Keep the ice roller in the freezer or fridge, effortlessly gliding over your face for restored and revived skin. Serve the perfect dose of skin rejuvenation with STYLPRO's Facial Ice Globes. De-stress, tighten your skin, and enjoy the blissful cold beauty.
Benefits and features

⭐Relaxes, firms and lifts skin
⭐Reduces impression of puffiness and dark circles
⭐Eases tension
⭐Reduces appearance of wrinkles
⭐Encourages skincare products into skin for intense hydration
Includes

✅2x STYLPRO Facial Ice Globes
✅2x Temperature Protective Sleeves
How to use

🖤Chill STYLPRO Ice Globes in the freezer up to -20°c before use. This can be weeks or hours in advance.
🖤Take Globes out of the freezer and slip the protective sleeves onto the globe handles.
🖤Roll chilled globes over cleansed and dry skin or a sheet mask, avoiding applying too much pressure around the eyes.
🖤Use upward rolling motions to encourage circulation, natural firming of the skin and reducing the impression of circles.
🖤Use downward rolling motions to stimulate lymphatic drainage in the sinuses, encouraging natural relief from headaches and swelling.
🖤After massaging, clean the Globes with an anti-bacterial beauty spray (we recommend STYLPRO Anti-bacterial Makeup Brush & Beauty Tool Spray), wiping clean and storing either in the freezer or its packaging.

Additional Information

Keep in the freezer or fridge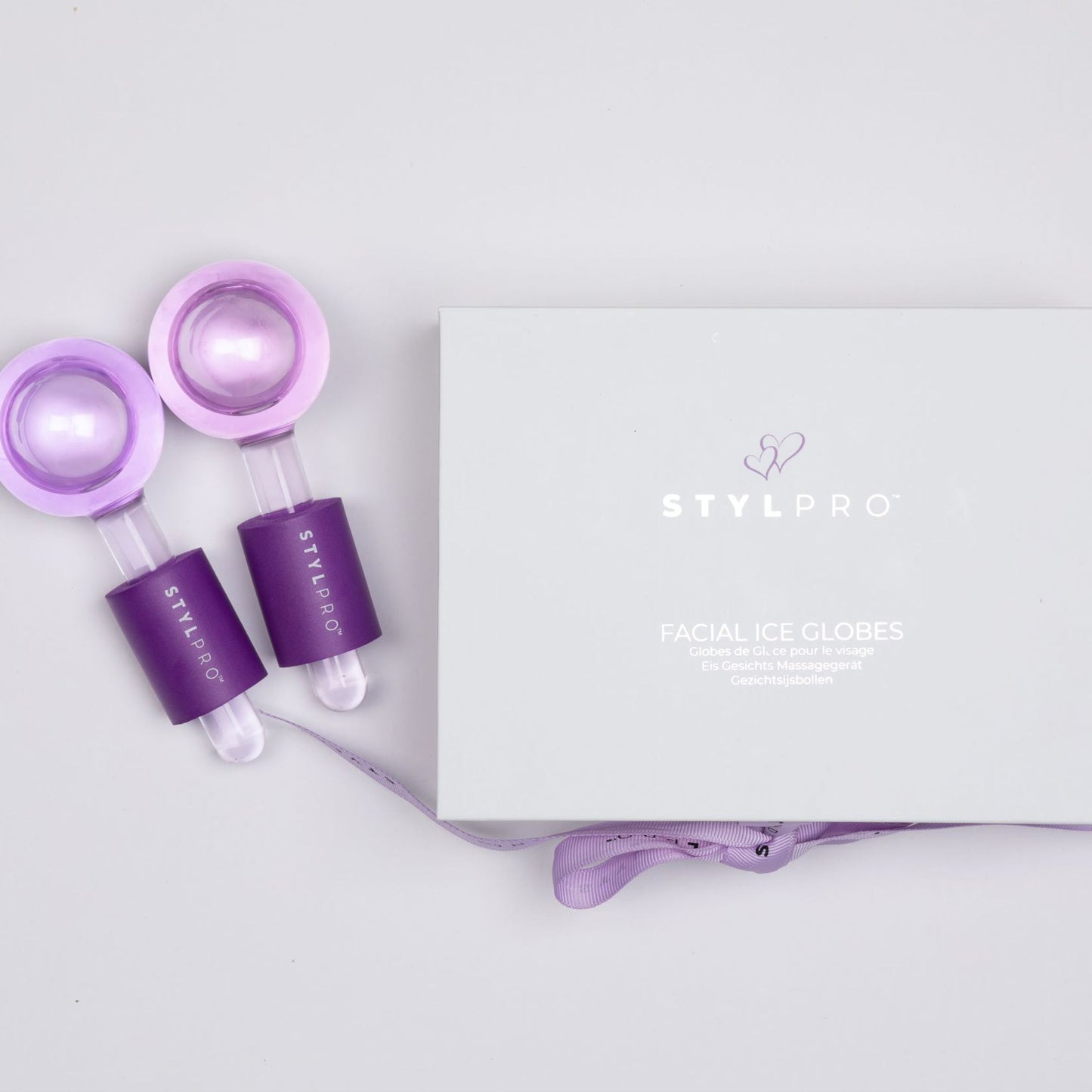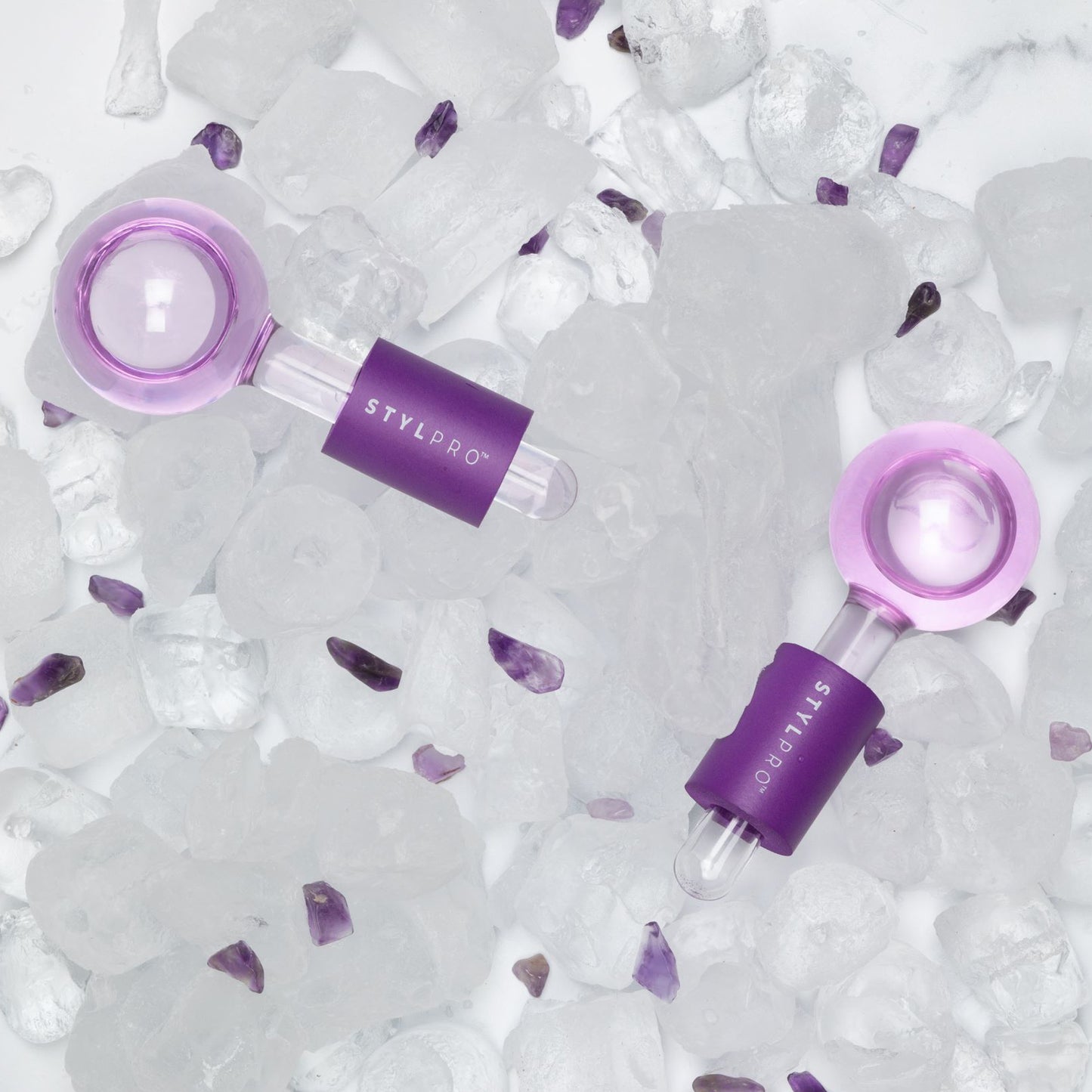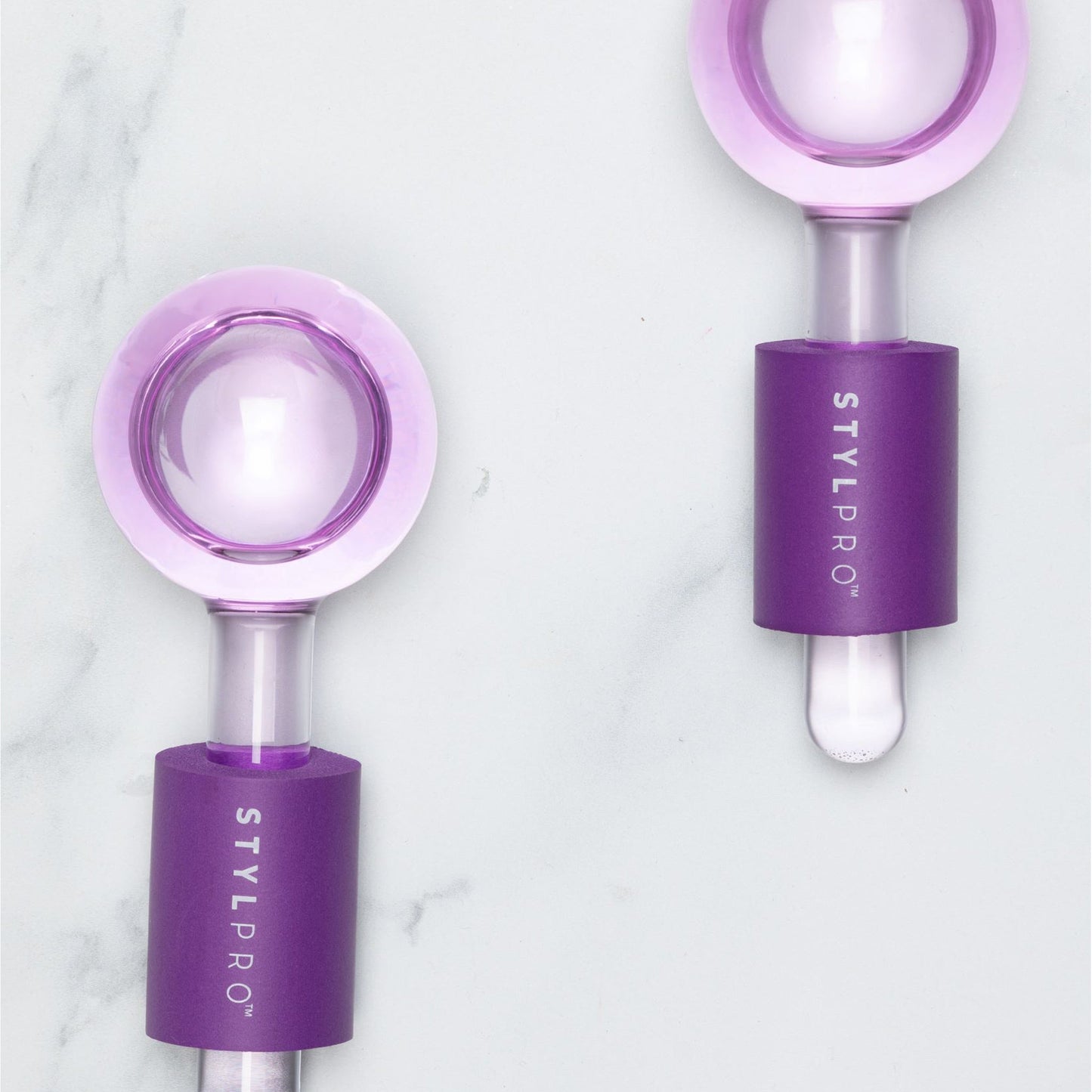 Beauty accessories invented with love
FAQs: Facial Ice Globes
Cryotherapy uses cold temperatures on the skin to reduce blood flow to particular areas and reduce swelling and puffiness. This can include reducing pain symptoms and tension points. Cryotherapy can release endorphins with the use of cold temperatures on the skin, which alleviate stress and anxiety. Additionally, cryotherapeutic massage encourages collagen production which is essential to anti-aging processes, by creating more elasticity in the skin. It also just feels really nice!
Massaging your face with our Ice Globes does many things for your skin and general well-being.
Massaging in an upward direction encourages natural lifting and firming of the skin, as well as generating collagen production and healthy circulation.
Massaging in downward rolling motions encourages lymphatic drainage, which reduces swelling in sinuses and naturally relieves headaches.
Massaging tension out of our faces relaxes muscles and decreases impression of wrinkles on the skin.
It also feels really good and can roll away a lot of stress from the day!
Yes! Our STYLPRO Ice Globes are Vegan certified.
You can store your globes in their packaging or to chill before use, store in a standard freezer (maximum of -20°c) for any length of time. You can leave your STYLPRO Ice Globes in the freezer for weeks on end.
Our Ice Globes are made with hand-blown glass, each one individually made with their own unique icy magic-just like a snowflake!
Borosilicate glass. Borosilicate glass, commonly known as Pyrex glass, is a type of glass that contains boron trioxide which allows for a very low coefficient of thermal expansion. This means it will not crack under extreme temperature changes like regular glass. Its durability has made it the glass of choice for high-end restaurants, laboratories and wineries. Borosilicate glass is lead and BPA free.
The liquid inside the STYLPRO Ice Globes is unfortunately a top secret. What I can tell you is that it does not freeze until below -30c and that we are in the process of having it registered with the Vegan society.
Yes, the STYLPRO Ice Globes have been specifically designed so you can store them in the freezer. They have special glass and liquid inside which is safe in standard house hold freezers. They are however not suitable for industrial freezers that go below -20c.
Yes, however we recommend the freezer to give you the true Cryotherapy experience, but if you would like a more subtle chill you can absolutely use in the fridge as an alternative. They can be stored in the freezer for as long as you would like.
We recommend using our STYLPRO Anti-bacterial Makeup & Beauty Tool Spray to spray on the globes and wipe clean. Similarly, you can use water and soap to wash and rinse the STYLPRO Ice Globes. Leave to air dry.
We have done a huge amount of internal and independent testing to ensure the STYLPRO Ice Globes are safe to use.
Unfortunately it is very likely that if you drop the STYLPRO Ice Globes on a hard surface or floor they may break.
We are sorry you are having issues with your STYLPRO Ice Globes. Please email us at teamtom@stylideas.com to fix this issue.
We will accept returns for unshipped orders for a full refund. If you wish to cancel your unshipped order or have any questions, please contact customer service at teamtom@stylideas.com
For dispatched orders, we accept refunds/exchanges within 14 calendar days from the delivery date, if the item is unopened. The customer will be responsible for postage payment of the returned item.
Please note, due to hygiene reasons, we do not offer refunds/exchanges if the product was used/package opened. Should you wish to return an unused, unpacked, please contact our customer service at teamtom@stylideas.com