STYLPRO Beauty Storage Podlette
Regular price
Sale price
£29.99 GBP
Unit price
per
Sale
Sold out
Time to save space on your dressing table?

The STYLPRO Beauty Storage Podlette is the ultimate solution for all of your beauty and skincare storage needs. This secure and stylish makeup holder is designed with four different sized storage sections, making it perfect for organising various sized cosmetics, makeup, toiletries, accessories, and more!
Products pictured not included
Watch the STYLPRO Beauty Podlette in action
EAN: 5060288332137
How it works

From lipsticks, makeup brushes, and perfumes to jewellery, nail polishes, cleansers, and moisturizers, this podlette does it all. Say goodbye to the mess and clutter that used to surround you while you got ready.

The STYLPRO Beauty Storage Podlette is the easy storage solution that simplifies your routine. Its crystal-clear cover keeps your beloved products safe from dust and water, while also allowing you to proudly display them on your dressing table, in your bathroom, or even in your bedroom. Streamline your beauty routine and enjoy the convenience of having everything in one place with this versatile and beautiful display case. Get yours today and experience the joy of secure and organised skincare storage.
Benefits and features

⭐4 different storage sections for various sized cosmetics, makeup, toiletries, and accessories
⭐2 styles to choose from
⭐2 x smaller drawers, 1 x larger drawer
⭐Transparent and visible top for display of products
⭐Portable with handle
⭐Lightweight design
⭐Ideal for home use or travel
⭐Ideal to keep beauty products tidy and organised
⭐Stylish detailing
⭐Waterproof
⭐Detachable sections for travel and storage

Includes

✅ 1 x STYLPRO Beauty Podlette
✅ 3 x drawers
✅ Detachable lid
How to use

🖤Remove plastic film from visor
🖤Lift visor upwards to add products to top section
🖤To detach top section to access makeup platform, pull side clips upwards and lift handle.
🖤Use rubber tabs to open drawers.

Additional Information

The STYLPRO Beauty Podlette (smaller size) is 25.5cm(L) x 23cm(W) x 32.5cm(H)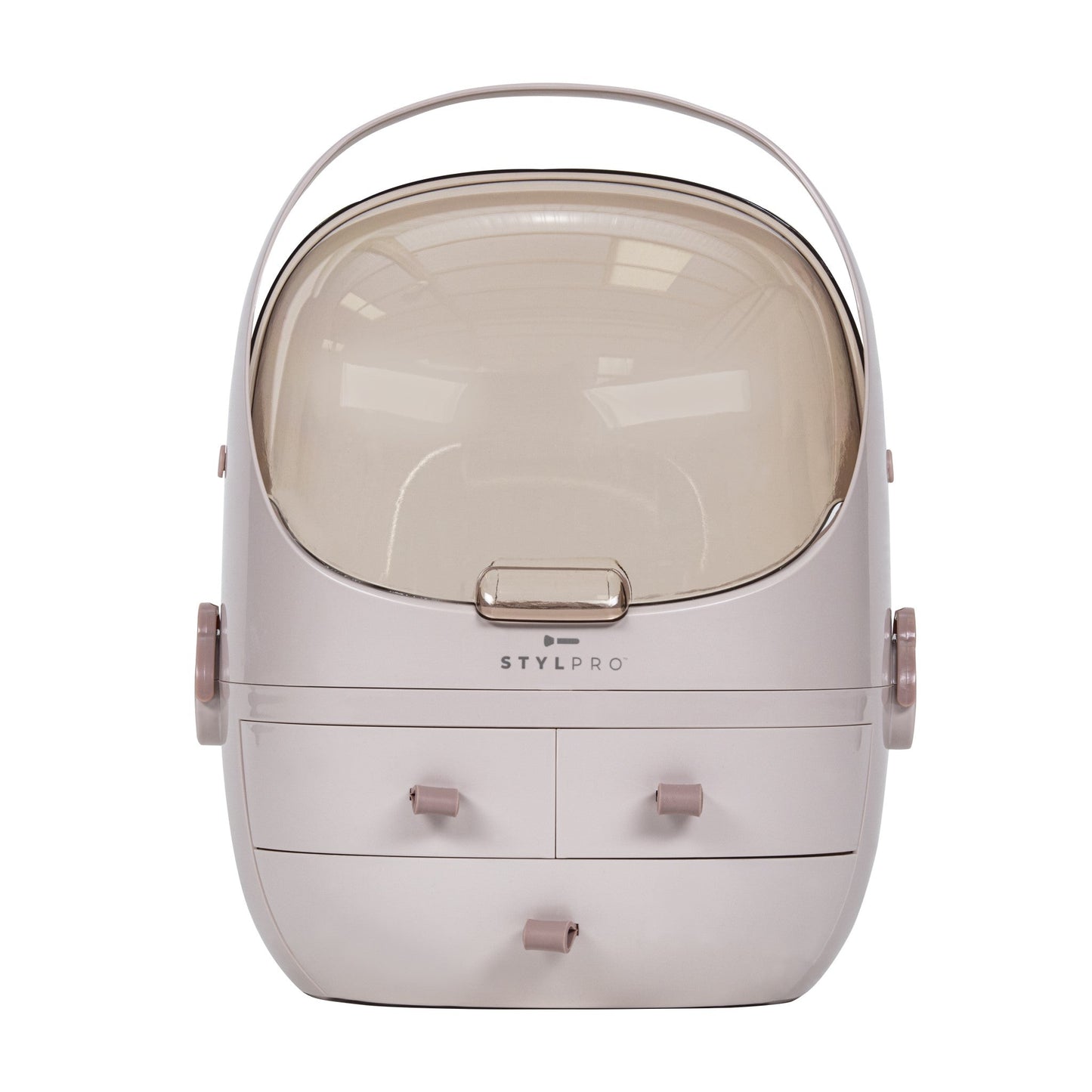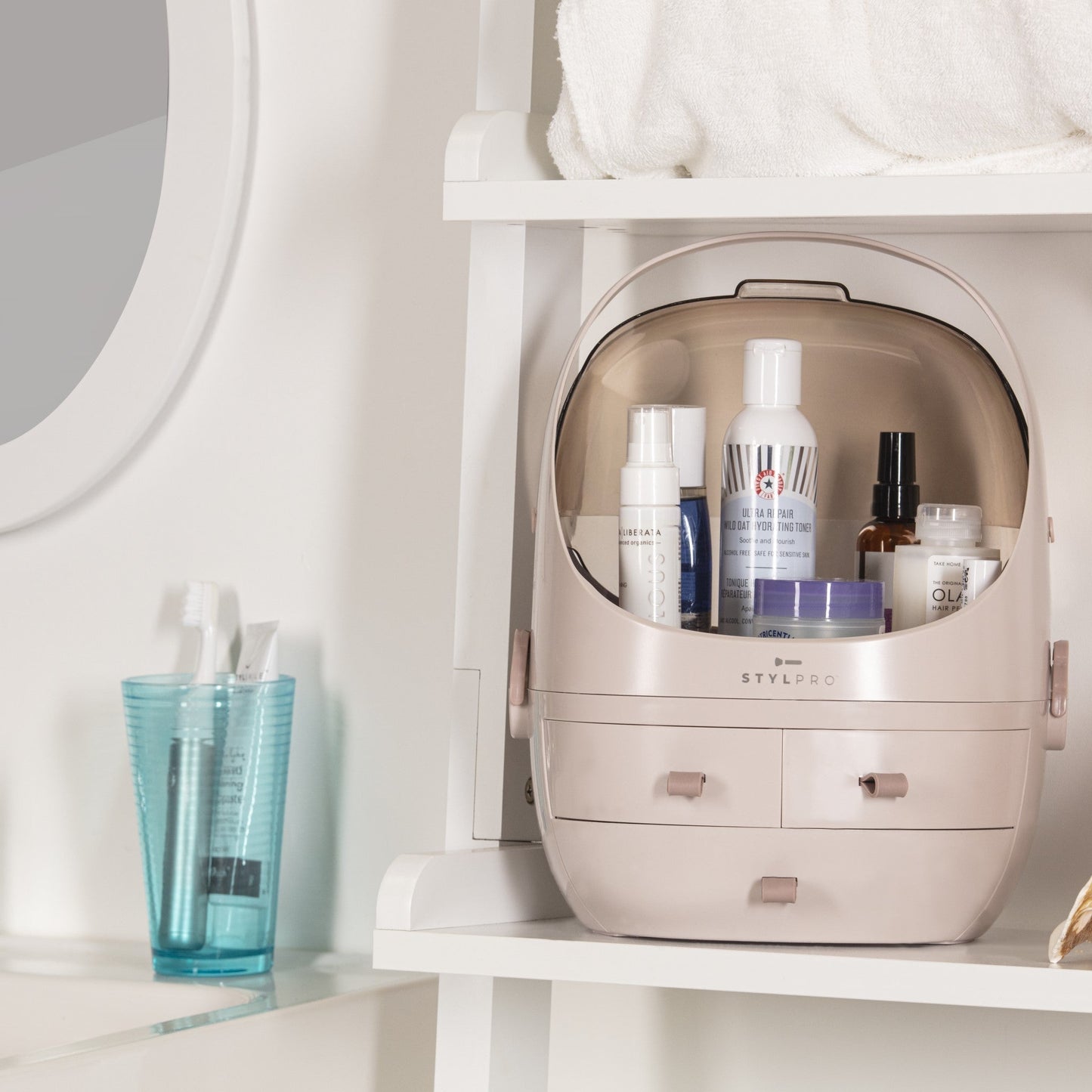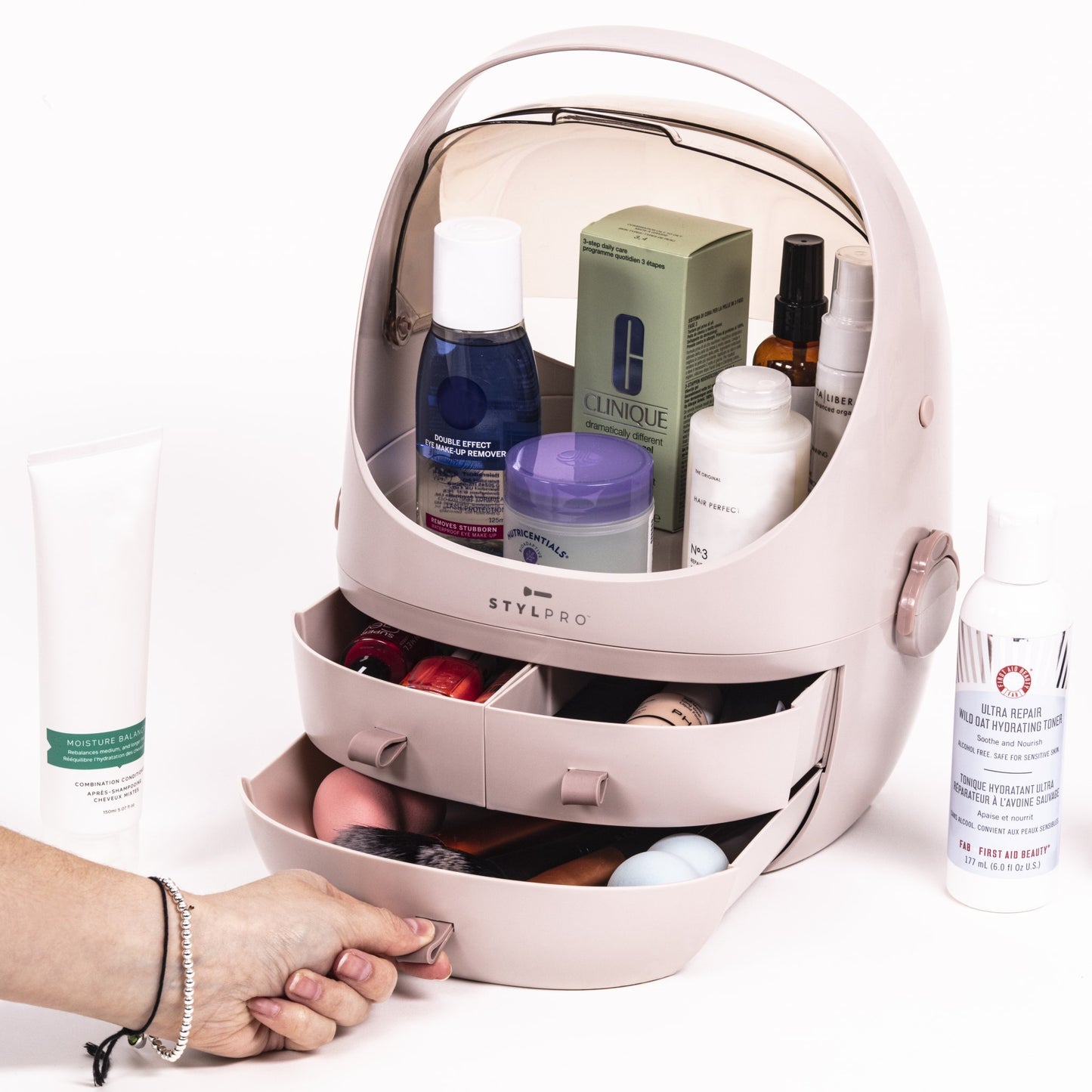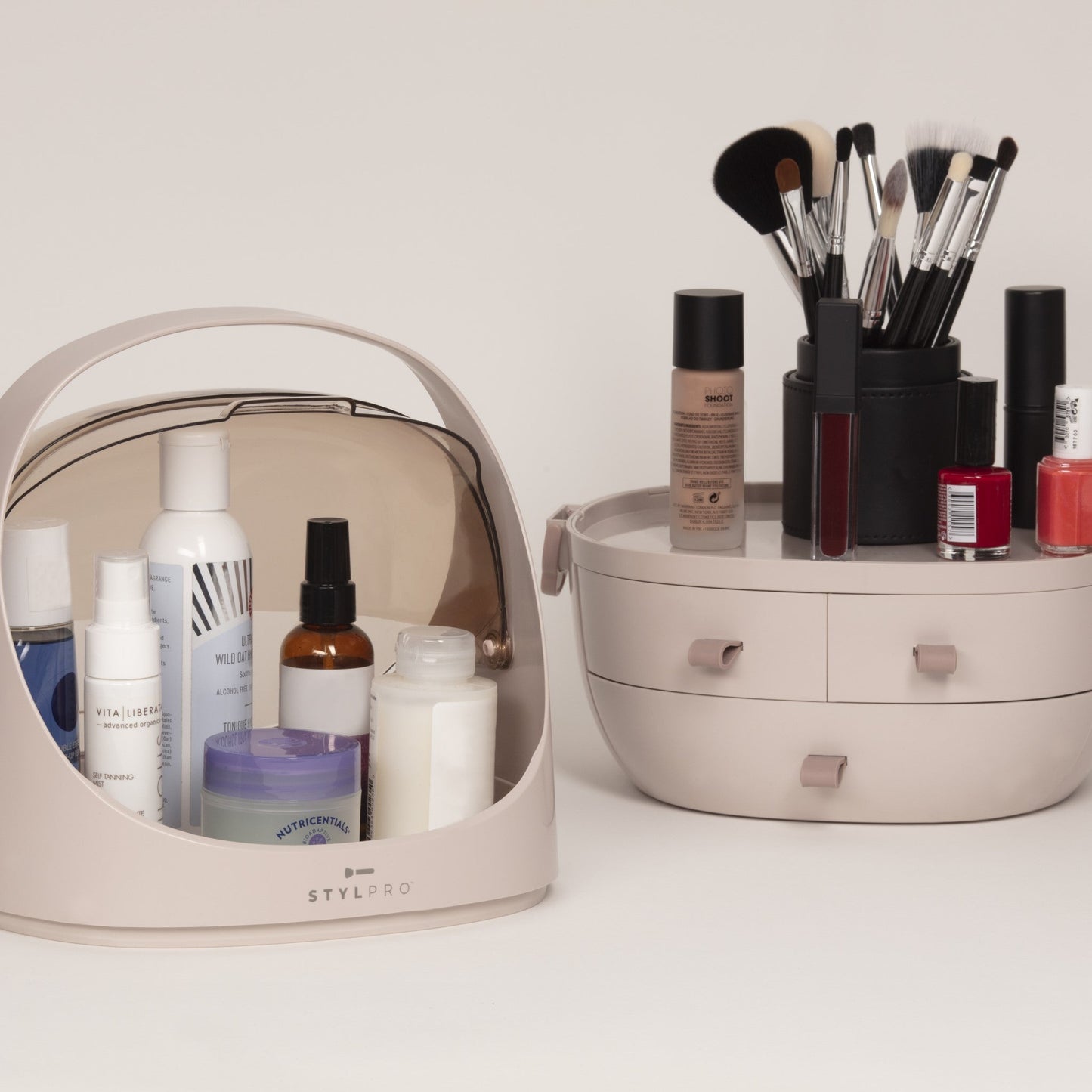 Beauty accessories invented with love
FAQs: Beauty Podlette
You can put in as many of your favourite cosmetics as you can fit! Including things like cleanser, moisturiser, nail varnish, makeup removers, gels, balms, serums, makeup, perfume, toiletries and more.
Pull the clips on both sides of the pod downwards to unlock the top section from the bottom. Then simply lift the lid upwards to remove.
Yes, if you secure the lid to the base with the clips, you can carry the beauty pod using the handle at the top.
Lift the clips and push them inwards to lock the clips back into place on both sides.
Wipe away any dirt or dust with a damp cloth.
The STYLPRO Beauty Podlette (smaller size) is 25.5cm(L) x 23cm(W) x 32.5cm(H)
Press the handle flat and weave it through the hole from the inside of the draw until the rubber ledge of the handle reaches a stop.
Yes, they open all the way to the top of the beauty podlette under the handle.
Yes, they are to help hold the screen open.
Please find a downloadable version of our instructions here