The A-PEN-TICE and SUGARFIRE Bundle
Regular price
Sale price
£20.00 GBP
Unit price
per
Sale
Sold out
Unleash the power of Lord Sugar with this exclusive duo of desktop accessories!
The SUGARFIRE Sugar-nator - Get fired by Lord Sugar every day with this unique desktop accessory. It sits perfectly on any desk or shelf, allowing Lord Sugar to wave his famous firing figure at you whenever you need a good talking to. Plus, all £15 proceeds go directly to Great Ormond Street Hospital, a charity Sir Alan cares deeply about.
The A-PEN-TICE - Embrace your inner boss with this talking, pointing pen from Lord Sugar. Share some of Lord Sugar's famous catchphrases, including:
"You might be hired or you might be fired."
"I'm much better than Donald Trump for sure!"
"I can't bloody believe it!"
"Once I thought I was wrong but I was mistaken."
Whether you're seeking inspiration at the office, a conversation starter in the boardroom, or a new way to hire or fire, look no further. Lord Sugar has spoken, and now you can too!
Don't miss this EXCLUSIVE offer: Get both the SUGARFIRE Sugar-nator and the A-PEN-TICE for only £20 with FREE P&P (UK delivery only). All £20 goes to Great Ormond Street Hospital Charity (GOSH).
How does it work?

The A-PEN-TICE Sugar Pen for GOSH is a talking, pointing pen of Lord Alan Sugar that speaks some of his famous Apprentice phrases when you touch the switch at the back.
The SUGARFIRE Sugar-nator Pointer for GOSH is a unique desktop accessory of Lord Alan Sugar. When you press the button, Lord Sugar's firing finger waves back and forth.
Benefits and features

⭐Donation to Great Ormond Street Hospital
⭐Your own personal desk-top Lord Sugar
⭐Battery operated waving firing finger
⭐Batteries included
⭐Incredible likeness to Lord Sugar himself
⭐Perfect as a gift
⭐6 unique phrases
⭐Fully functional pen
⭐Extendable arms and pointing fingers
Includes

✔️1 x Lord Sugar talking and pointing ballpoint pen and cap
✔️ 1x SUGARFIRE Sugar-nator
✔️2 x LR44 button batteries
✔️ 2x AAA Batteries
How to use

A-PEN-TICE Pen
• Remove battery tab from behind head
• Remover sticker from the bottom of the pen to take off the cap to use the pen to write with
• Press tabs at the back to move the arms to activate the voice.
SUGARNATOR
• Locate ON OFF switch at the base
• Switch to ON
• Place on flat surface
• Push arm backwards to start the forward-backward motion
Additional Information

All £20 goes straight to Great Ormond Street Hospital.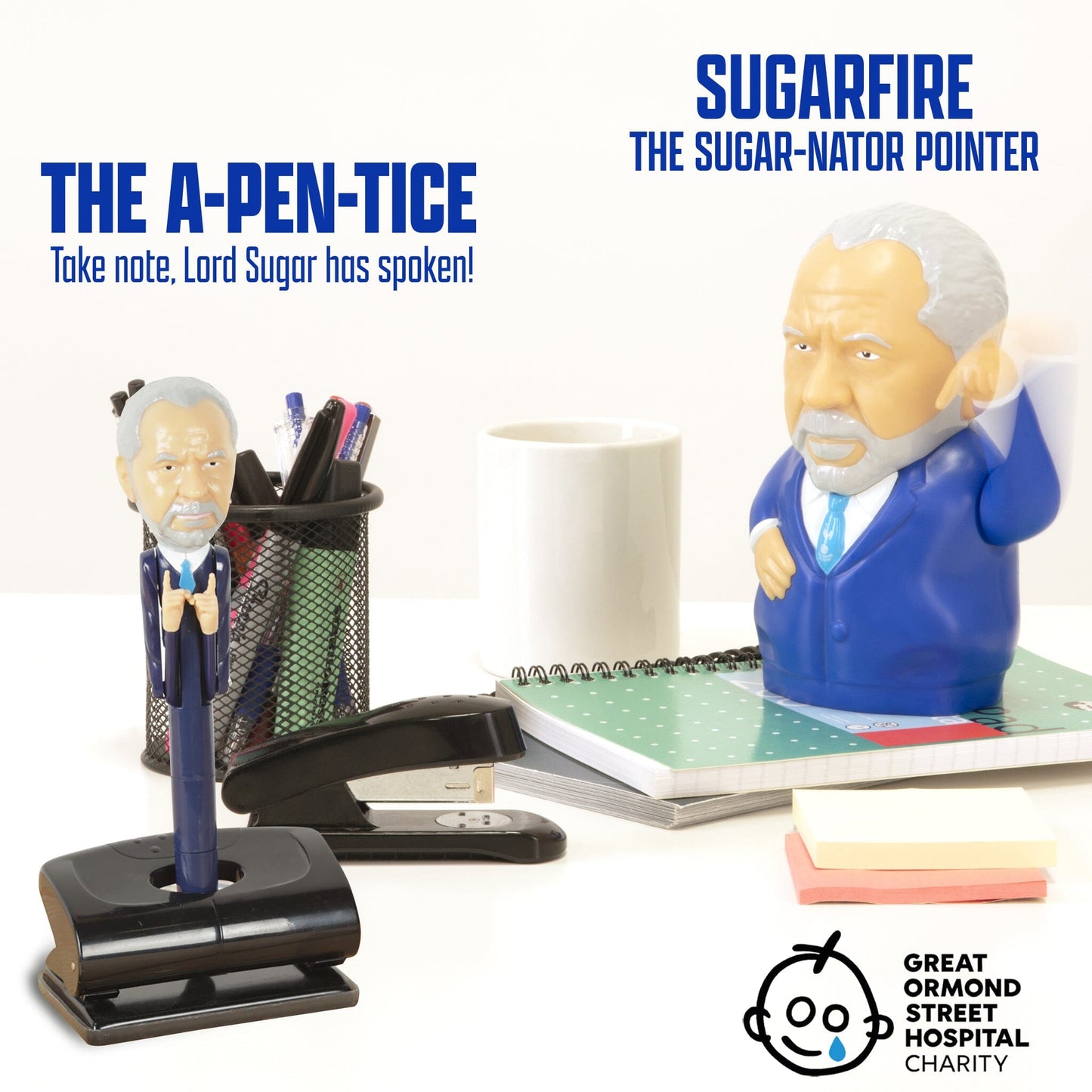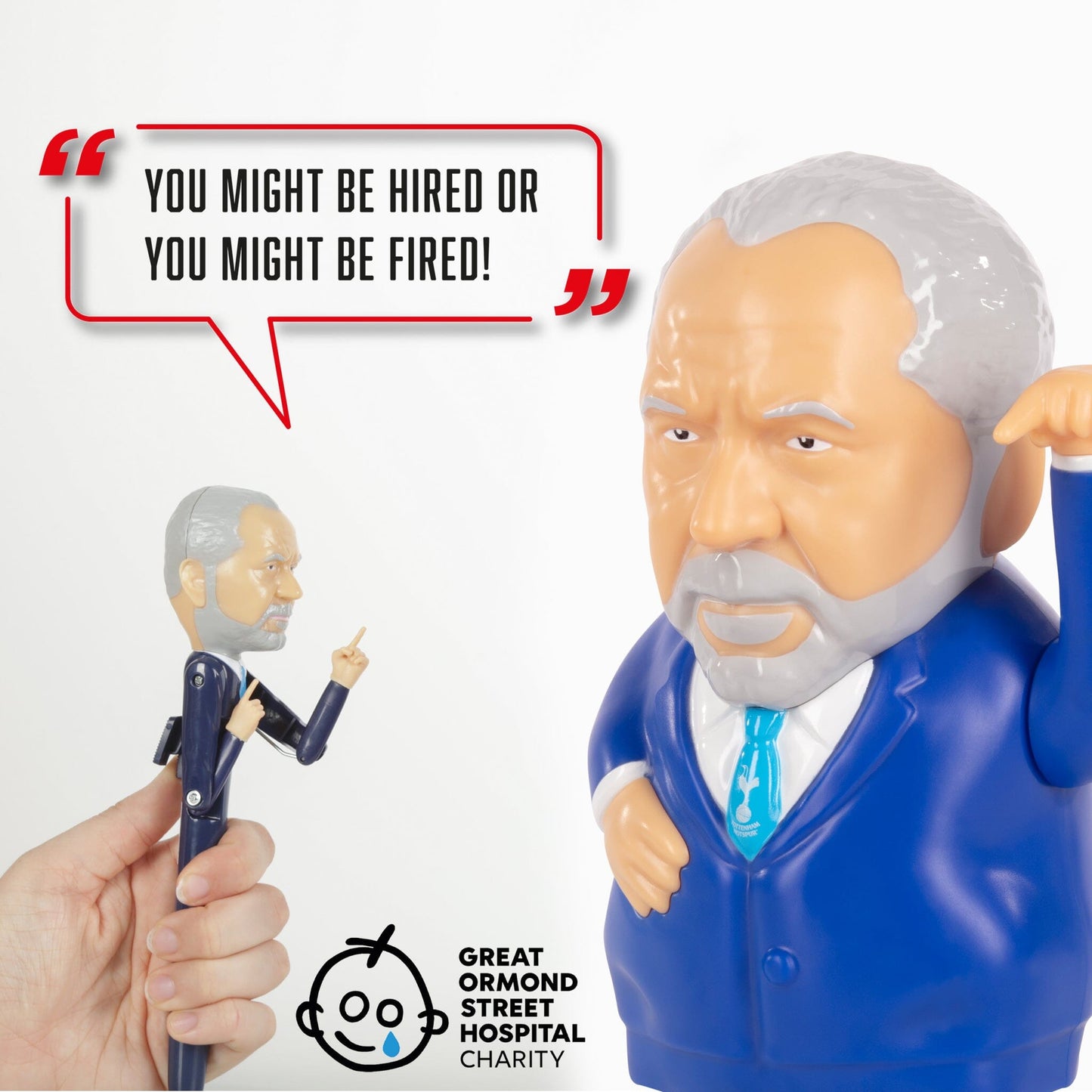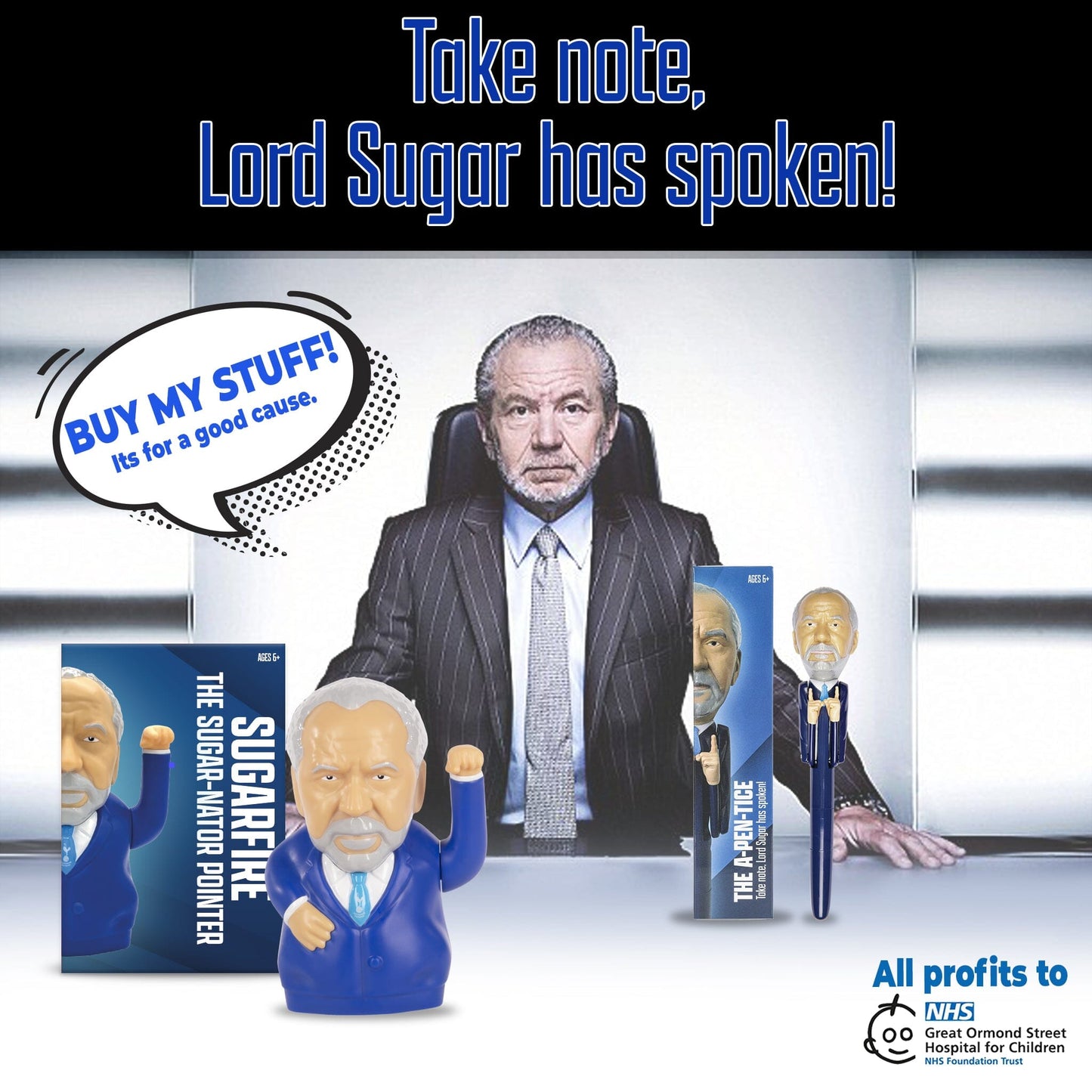 Beauty accessories invented with love
FAQs: Lord Sugar Bundle
Lord Sugar has ensured that 100% of proceeds will be sent to Great Ormond Street Hospital Charity (GOSH). To do this Lord Sugar has agreed to cover the cost of everything including the product, postage and packaging himself. That means the full £20 will be sent to GOSH (Registered charity number 1160024).
The SUGARFIRE Sugar-nator includes 2x AAA batteries, and the A-PEN-TICE includes 2x LR44 button batteries. The life span on these batteries will vary depending on frequency of use.
We're sorry to hear about this. We recommend pushing the arm backwards with your finger once the switch is turned on. Once the arm starts moving, the mechanism within the SUGARFIRE should continue to rock the arm back and forth. If it still isn't working, please email teamtom@stylideas.com and the STYLIDEAS customer care team will be happy to help.
Yes, the A-PEN-TICE may look and sound like formidable business tycoon Lord Alan Sugar but it is actually a working ballpoint pen it even has a cap too!
We're sorry to hear that your pen isn't working. Please remove the plastic film from the back of the head to activate the sound. If your pen still doesn't appear to be working, please contact STYLIDEAS customer service at teamtom@stylideas.com.