STYLFILE Gel Polish Remover Complete Kit
Regular price
Sale price
£20.00 GBP
Unit price
per
Sale
Sold out
Need to remove your gel nail polish at home?
Skip the trip to the salon and the fuss of foil tips with the STYLFILE Gel Polish Remover Kit. Our all-inclusive kit has everything you need for a complete and effortless removal of tired-looking gel and shellac polish, right from the comfort of your own home. Say goodbye to tedious salon visits and hello to fresh nails in just 15 minutes.
How to remove gel polish with the STYLFILE Gel Polish Remover Complete Kit
EAN: 5060288330515
How it works

Proven to remove Gel polish without reducing the thickness of the natural nail, the STYLFILE Gel Polish Remover Kit will leave your natural nails looking and feeling amazing after removing Gel nail polish.

Benefits and features

⭐Full at-home gel and shellac polish removal
⭐15 minute removal
⭐Reusable and sustainable clips
⭐Buffer and S-file included for ergonomic nail shaping in line with the curvature of natural nails
⭐Award-winning S-File allows you to shape with your non-dominant hand
⭐Clip design enables you to continue to use your hands
⭐Includes cuticle oil and buffer for full after care for your nails
⭐Acetone remover for complete and effective lift of old polish

Includes

✅1x STYLFILE Zebra S-File
✅1X 150ml STYLFILE Gel Polish Remover Solution
✅5x STYLFILE Gel Reusable Remover Clips
✅3x Manicure Sticks
✅4.5ml Almond cuticle oil
✅1x STYLFILE 4-way Buffer File

Does NOT include cotton wool pads.
How to use

🖤Gently file away the top layer of polish with the STYLFILE S-File first.
🖤Soak a cotton wool pad in the STYLFILE Gel Polish Remover for the best results and place the soaked cotton pad onto the fingernail.
🖤Open the STYLFILE Gel Remover Clip and place it over your fingernail and cotton wool pad, securing the remover in place over the polish.
🖤Leave the clip in place for 15 minutes to soak the polish and start to breakdown adhesives.
🖤After 15 minutes remove the clip and the cotton wool pad from your fingernail; if required use a manicure stick to gently tease away any stubborn polish left on the nail.
🖤Safely discard of old polish and cotton wool into a lid-closed bin. Rinse hands thoroughly after removal.
🖤For aftercare of nails, buff and shine natural nails with the 4-way STYLFILE Nail Buffer and drop a small amount of Almond Cuticle Oil onto your finger tip, and massage into cuticles.
Additional Information

Scroll below to read our FAQs for any questions you may have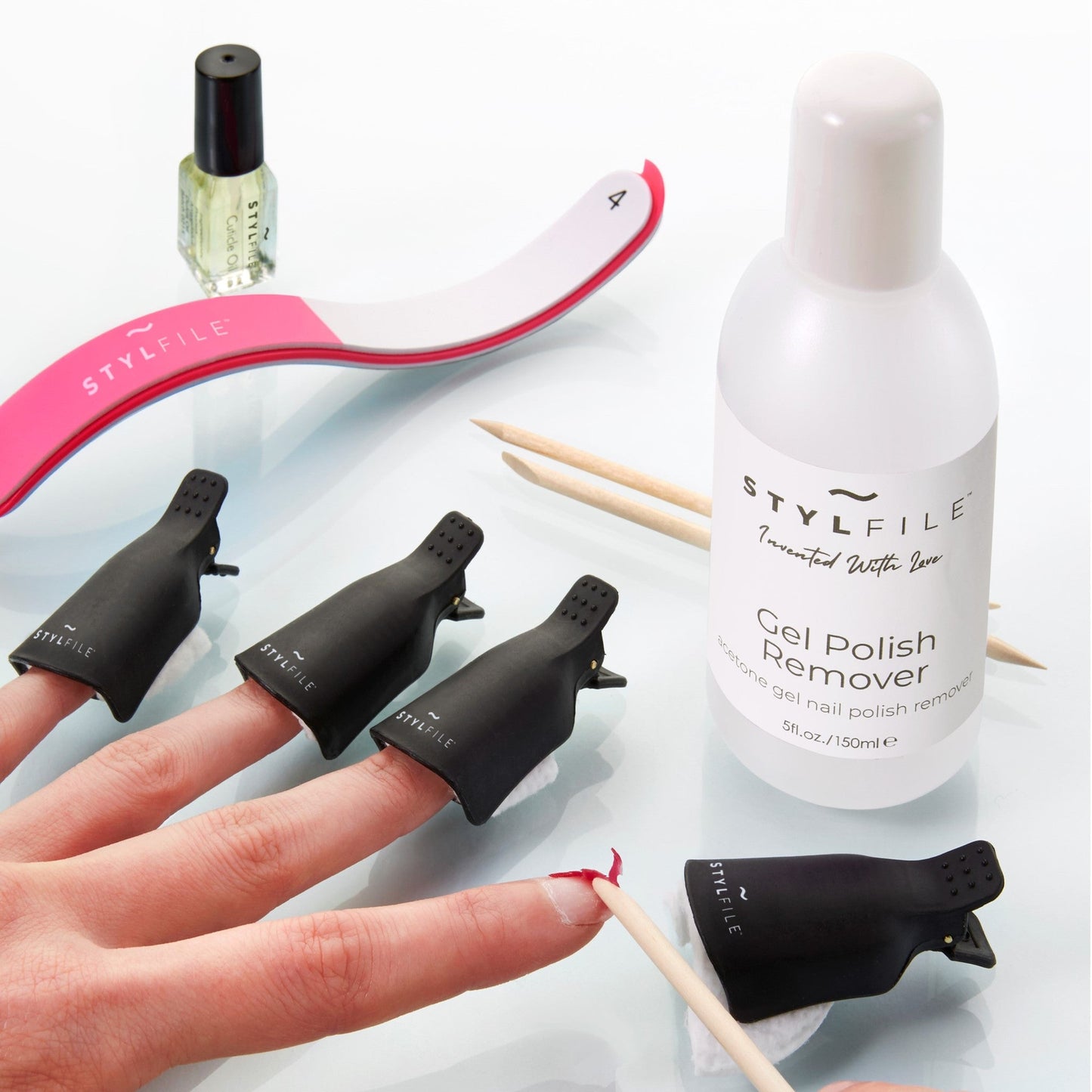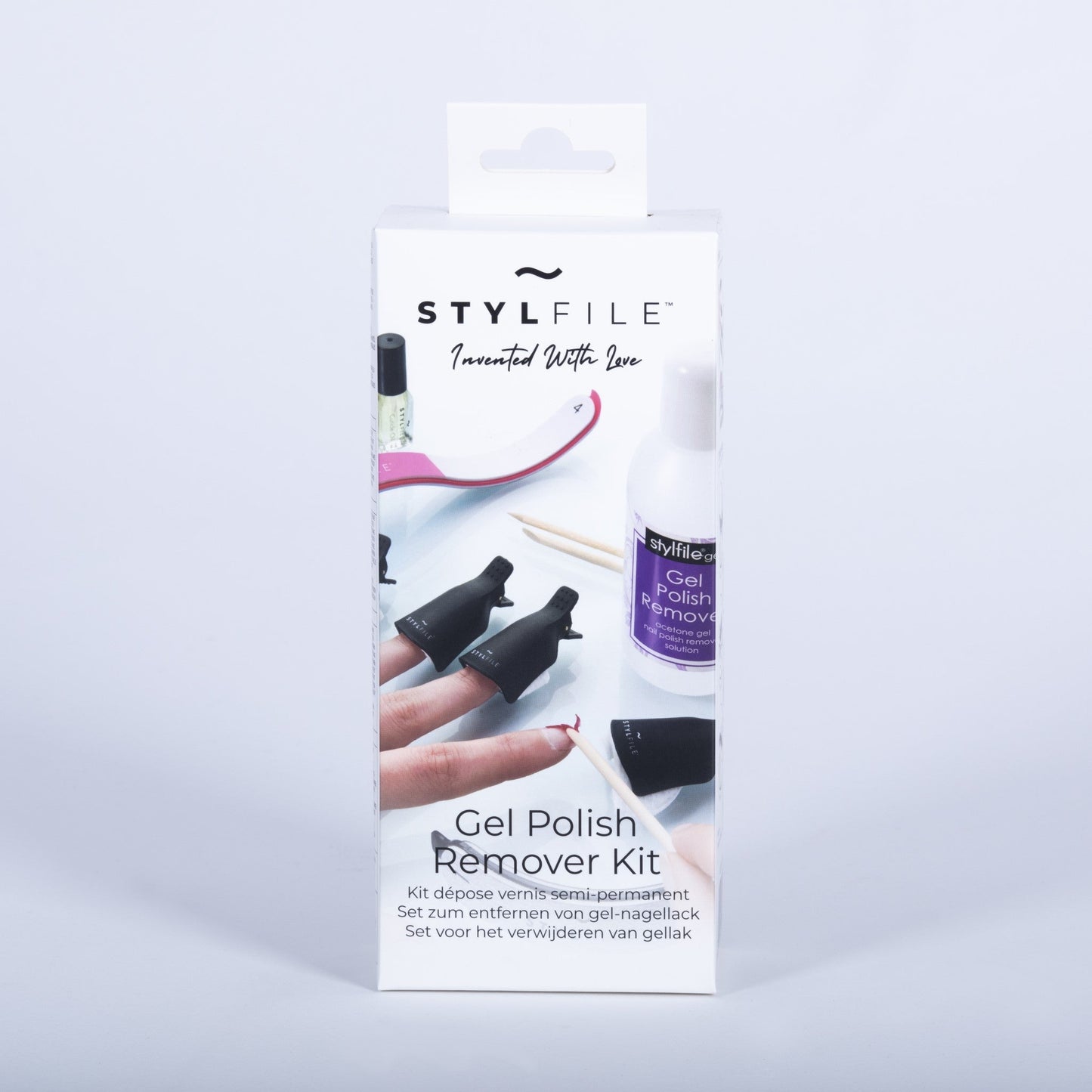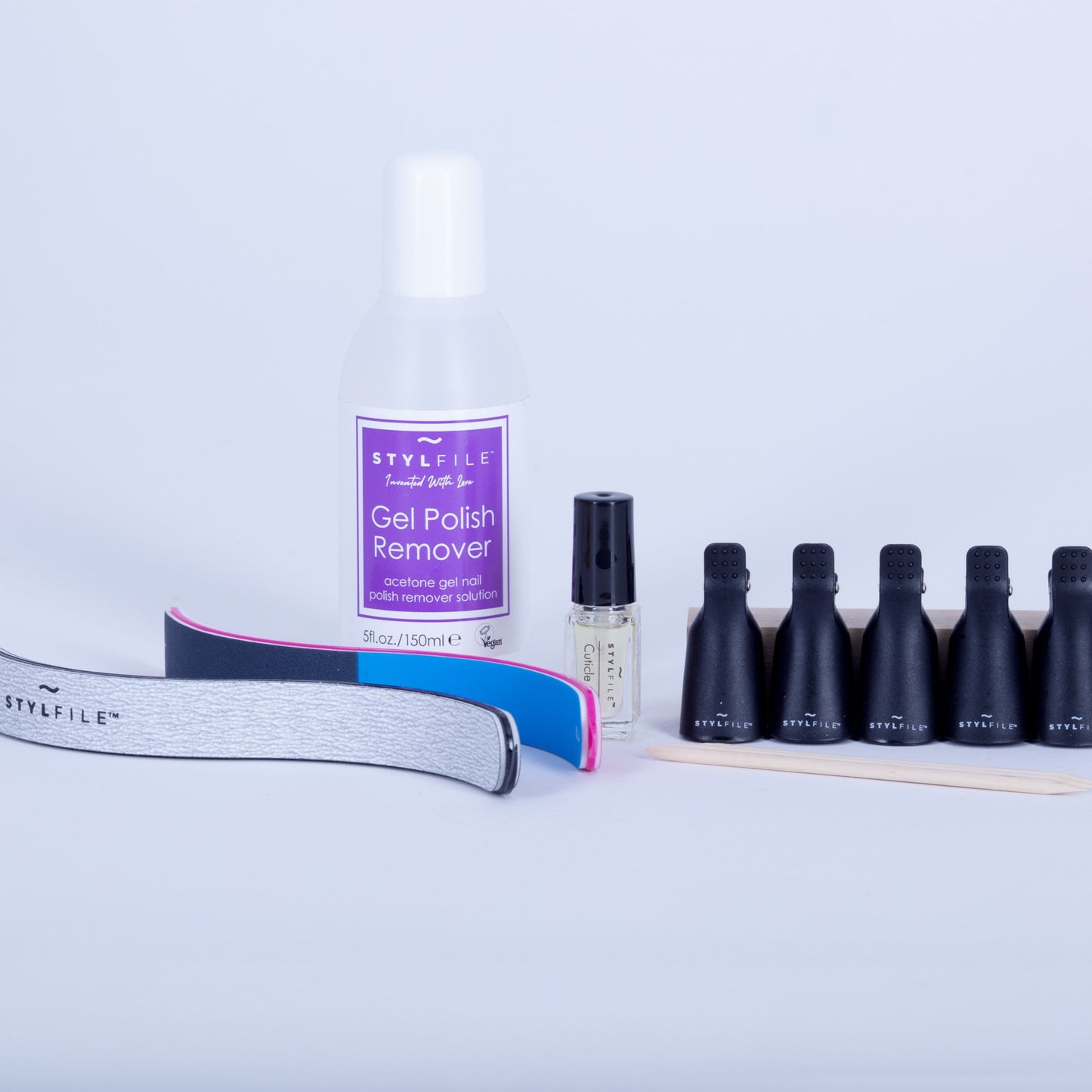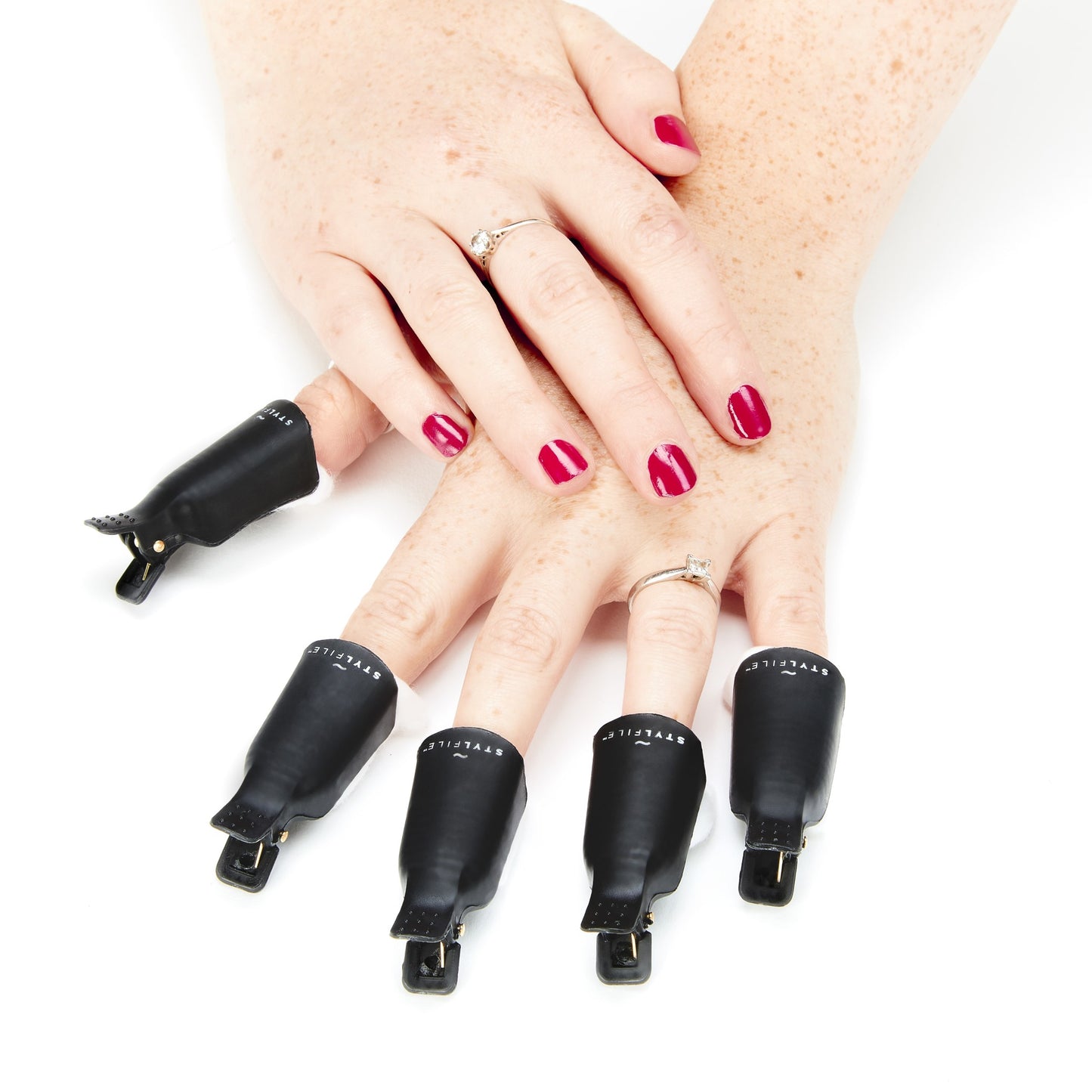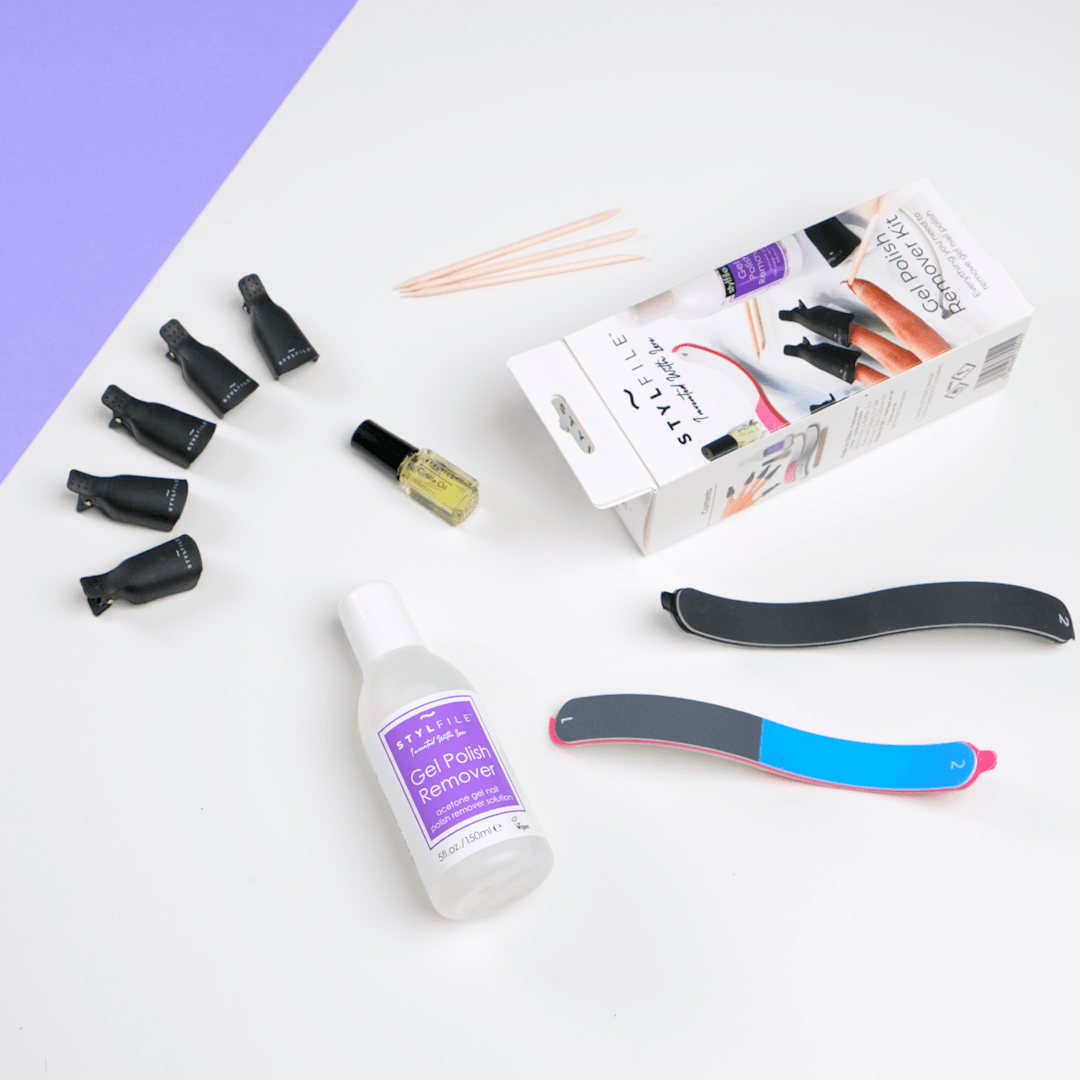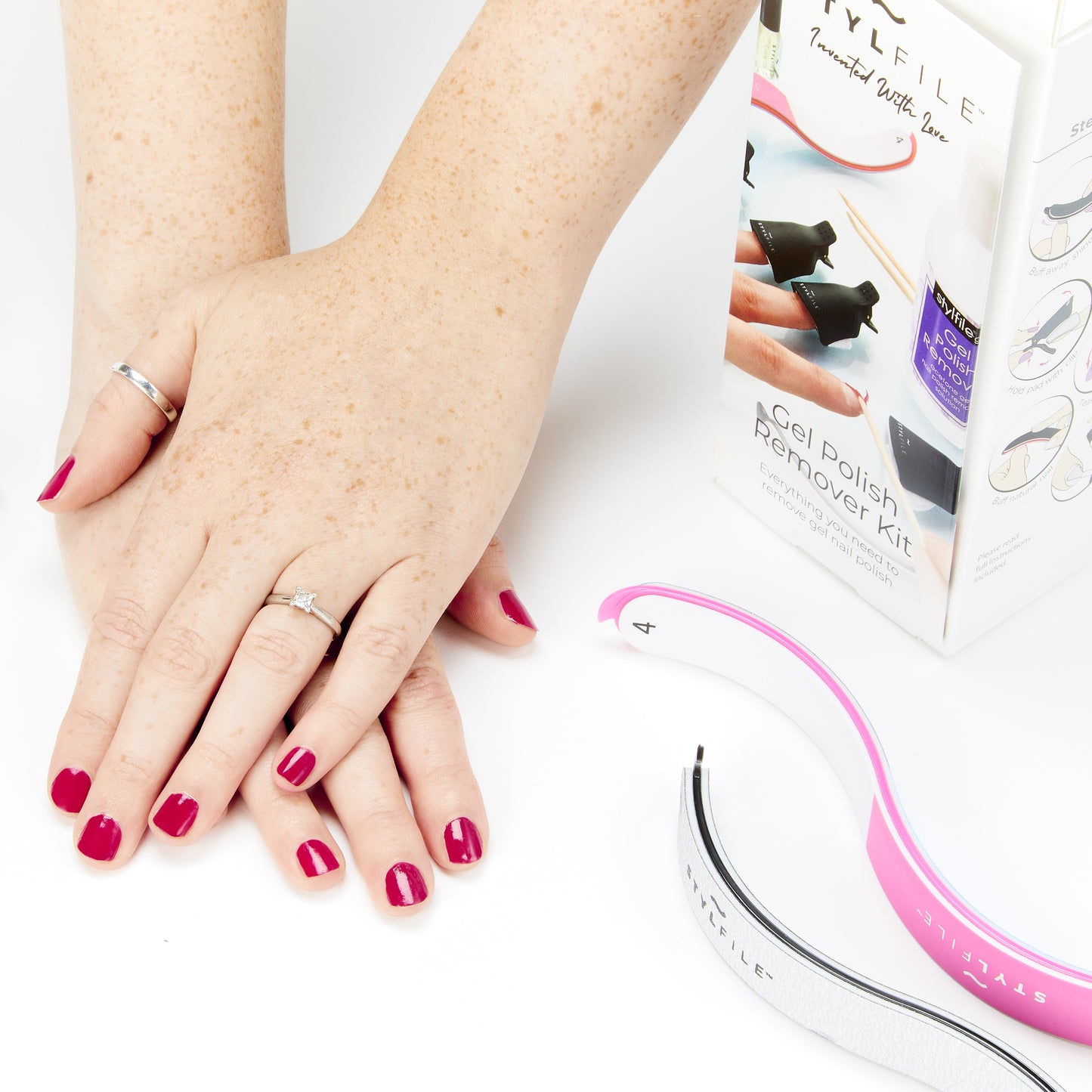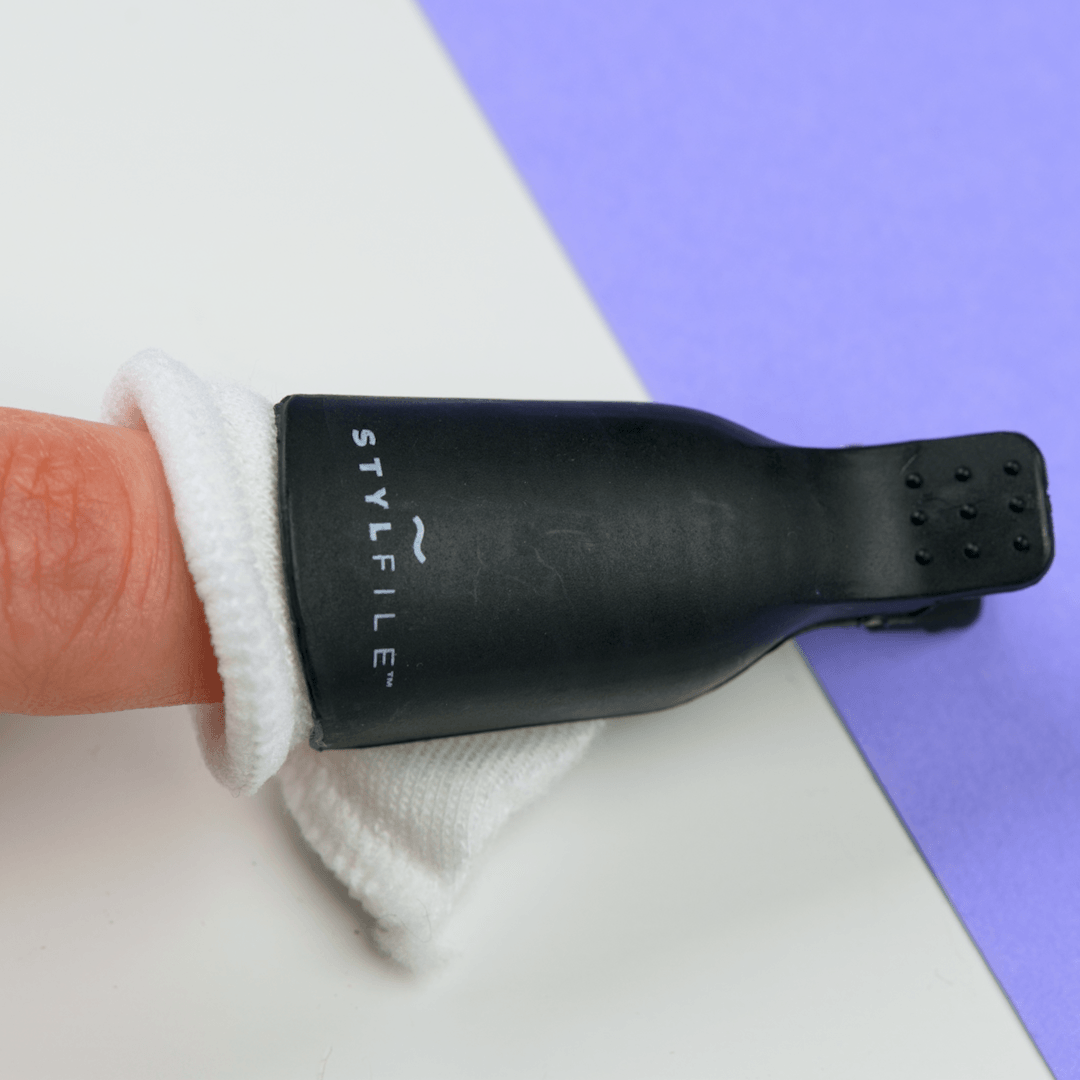 Beauty accessories invented with love
FAQs: Gel Polish Remover Kit
Yes, the Gel Remover Clips are designed to be used time and time again, they are quick and easy to use and will save you time and money.
This will depend on how you use the product. You can keep using your clips and when your acetone runs out you can re-order from our website.
When removing your own gel polish, you can only do one hand at a time. If you require more or replacement clips they are available to buy separately here.
Please find a downloadable version of our instructions here.